PAINT PROTECTION FILM
KEEP YOUR PAINT LOOKING GREAT AND YOUR RESALE VALUE HIGH!
SERVING BOISE, MERIDIAN, NAMPA, AND SURROUNDING AREA
PAINT PROTECTION FILM SERVICES FOR YOUR VEHICLE
Paint Protection Film, also known as clear bra, is a highly effective way to protect your car's paint job. It keeps your car looking like new by protecting the painted surfaces from rock chips and road debris. When properly applied, it can also protect against minor scratches from shopping carts and vandalism!
Ask us about all your PPF needs, or stop by for a sample and to see a piece of XPEL Ultimate Plus in action!
BENEFITS OF CLEAR BRA:
Preserves Paint
Increases Resale Value
Chip and Scratch Resistance
Hydrophobic Properties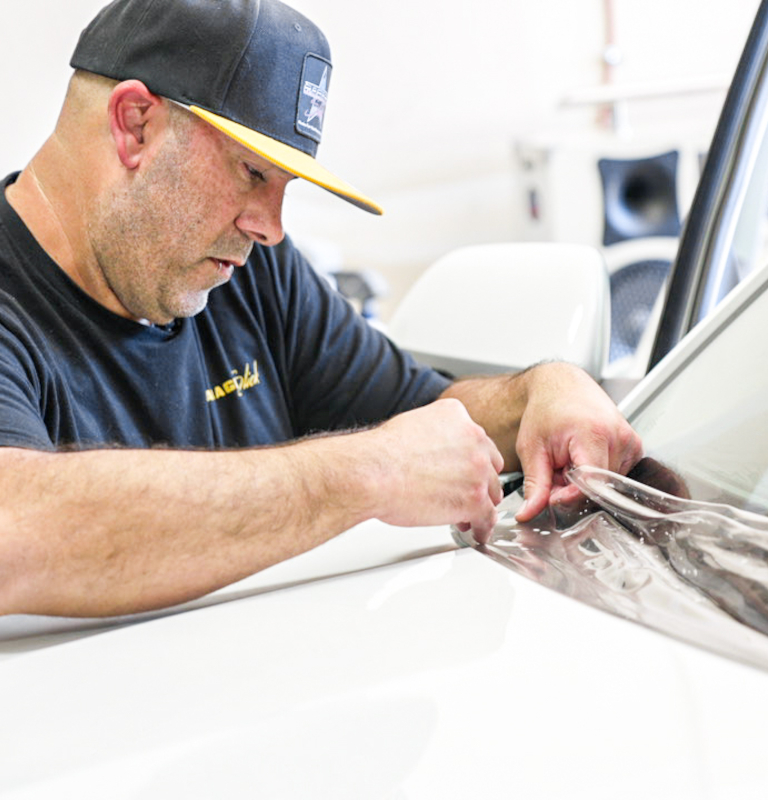 PAINT PROTECTION FILM PACKAGES
The partial front kit covers the front part of the hood, the front part of the fenders, the grill and front bumper, mirrors (if painted), door cups, and door edges where applicable.
The full frontal kit covers the entire hood, full front fenders, grill and front bumper, headlights, mirrors (if painted), door cups, and door edges where applicable.
Covers everything in the full front kit, plus adds the a-pillars and roof cap, as well as the rocker panels.
Covers all painted surfaces on the vehicle.
Modern headlights are very expensive. PPF coverage offers great protection from rock chips and debris without affecting light output.
This kit covers the a-pillars and front portion of the roof.
Covers the lower portion of the sides of the vehicle. Especially useful on trucks to prevent tire spray from damaging the sides of the vehicle.
Covers the top portion of the rear bumper to prevent damage while loading and unloading the trunk or cargo area.
Any smooth painted surface can be covered in PPF, and any of these kits can be broken down into sections or individual panel coverage.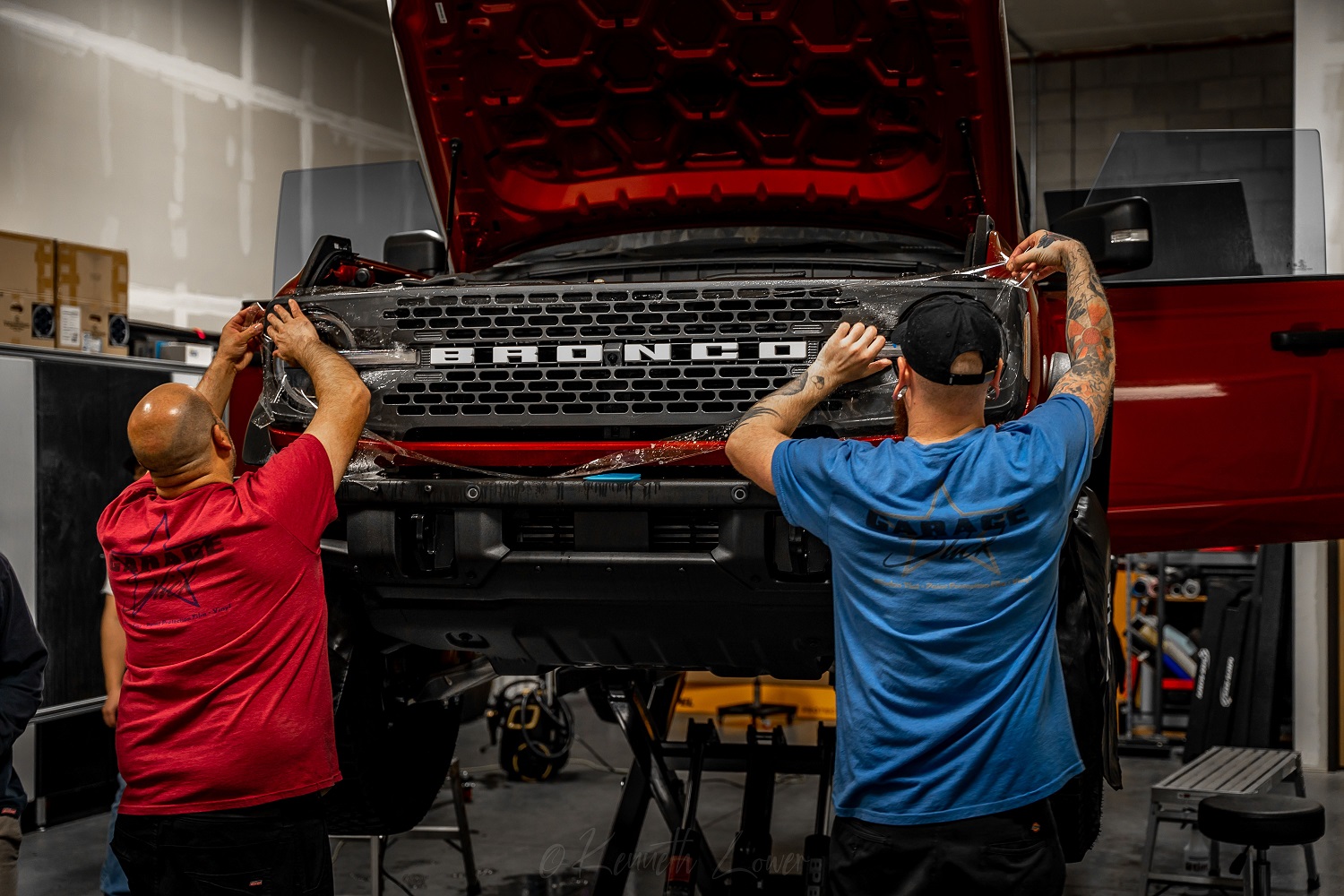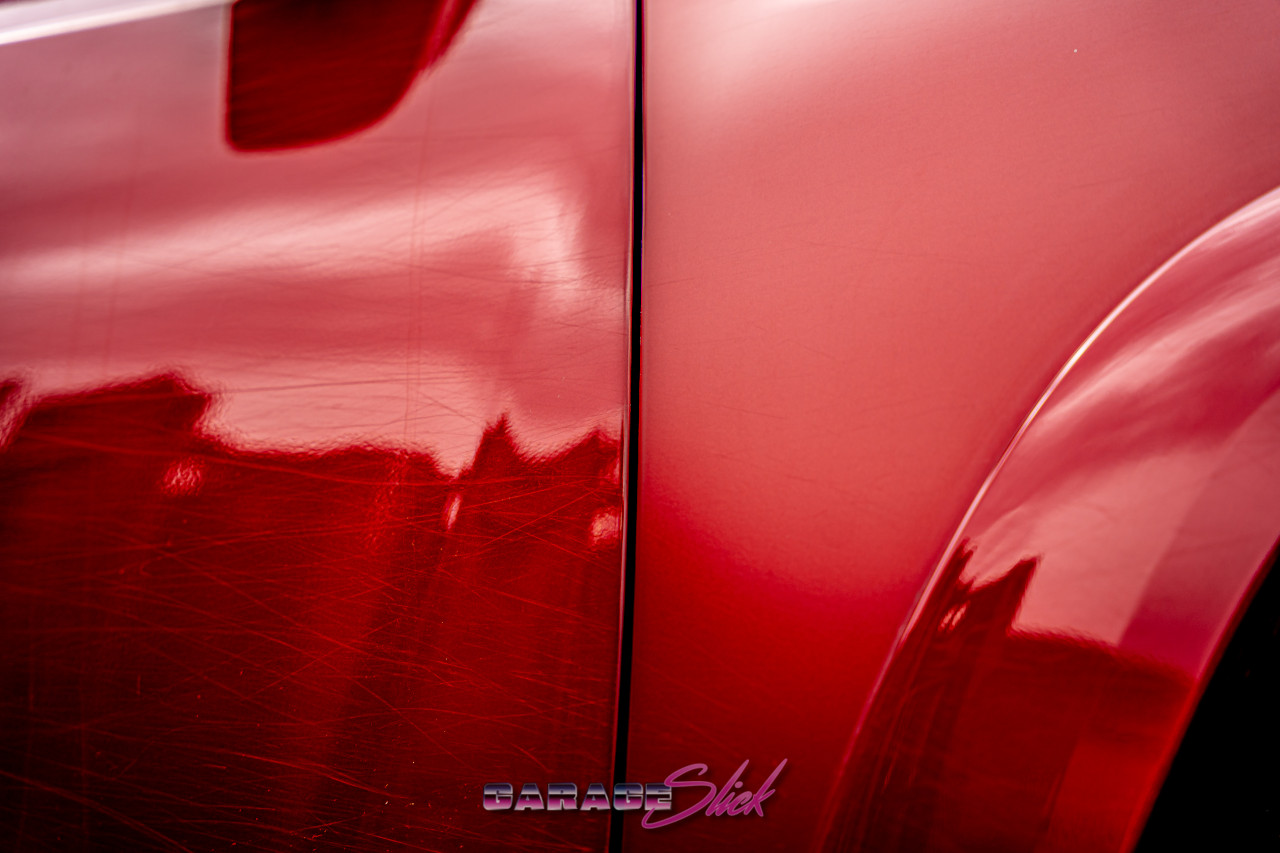 WHAT TYPE OF CLEAR BRA DO WE USE?
At Garage Slick, our installers are trained and certified in XPEL.
XPEL Ultimate Plus is a self-healing film backed by a 10-year warranty against yellowing, cracking, bubbling, and other material or manufacturer defects. XPEL Ultimate Plus 10-year warranty is even transferable upon selling your vehicle; see warranty card for full details.
Feeling unique? Ask us about the designer or colored PPF!
The newest edition to the XPEL family—Ultimate Fusion—combines Ultimate Plus with built-in Fusion Plus Ceramic Coating and includes a 7-year warranty on the ceramic properties in addition to the usual 10-year manufacturer's warranty.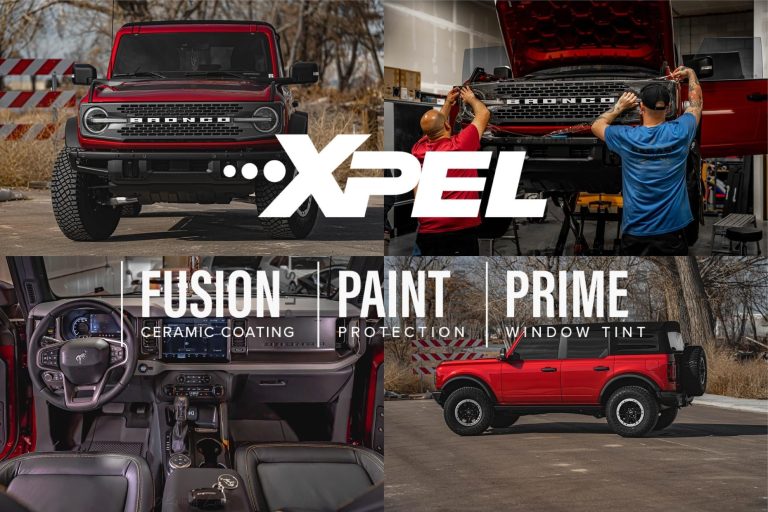 AUTHORIZED XPEL INSTALLER
We believe XPEL Ultimate Plus and XPEL Ultimate Fusion are the best PPF on the market and that's what we install on every car, every day.

OUR PROCESS
At Garage Slick, we offer both plotter-cut and custom, hand-cut PPF installations, allowing us to best meet our clients' individual needs. We use XPEL's industry-best Design Access Program (DAP) for all our plotter-cut patterns, which offers over 80,000 paint, headlight, and window tint patterns. Custom, hand-cut PPF installations are great for optimizing the fit of your paint protection film to give you the best coverage with the least intrusive end result.
We wrap edges whenever possible so that your PPF installation offers maximum protection and minimal visual impact. We offer PPF services on all cars, trucks, motorcycles, and recreational vehicles, from small jobs like in-dash screen protectors to full vehicle protection. We also repair and replace PPF where applicable.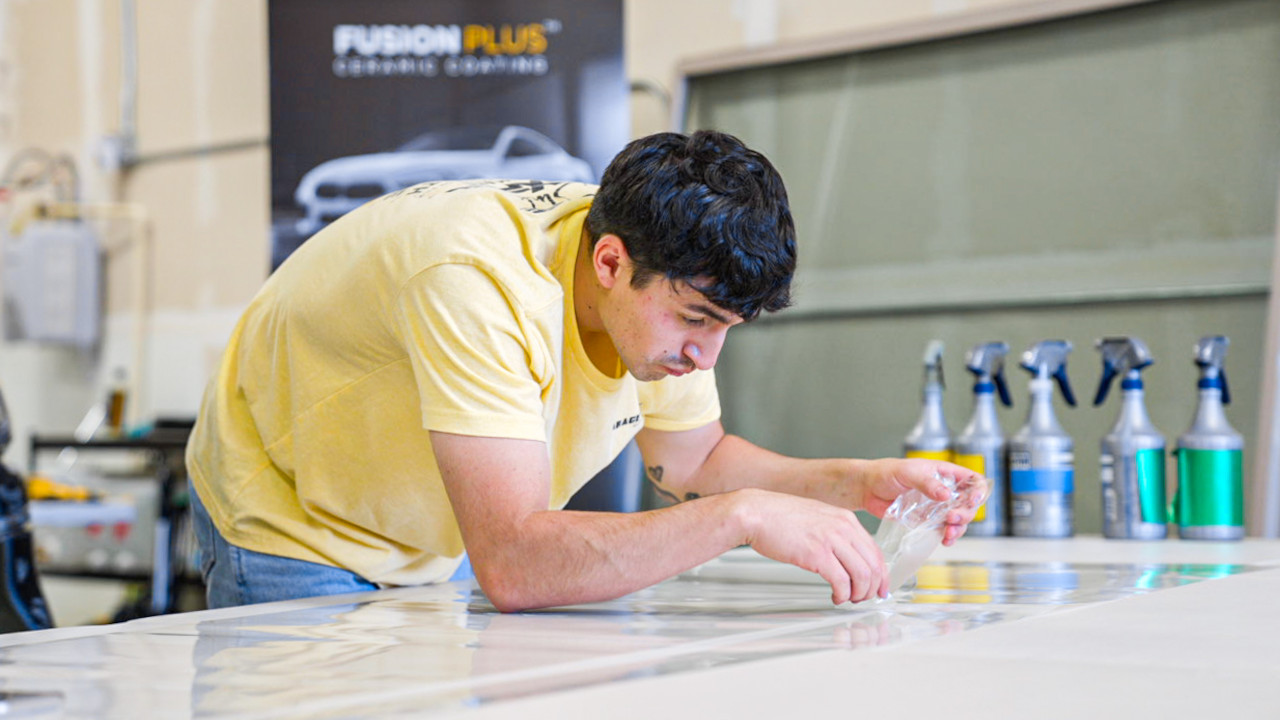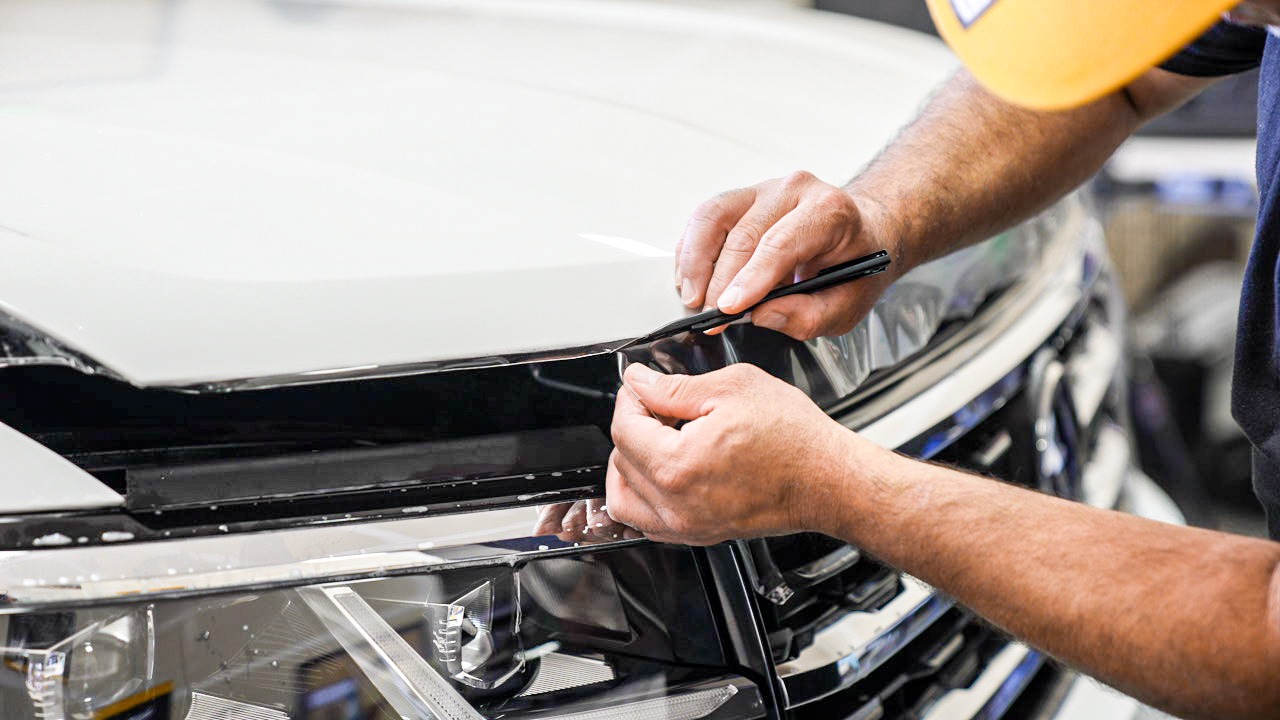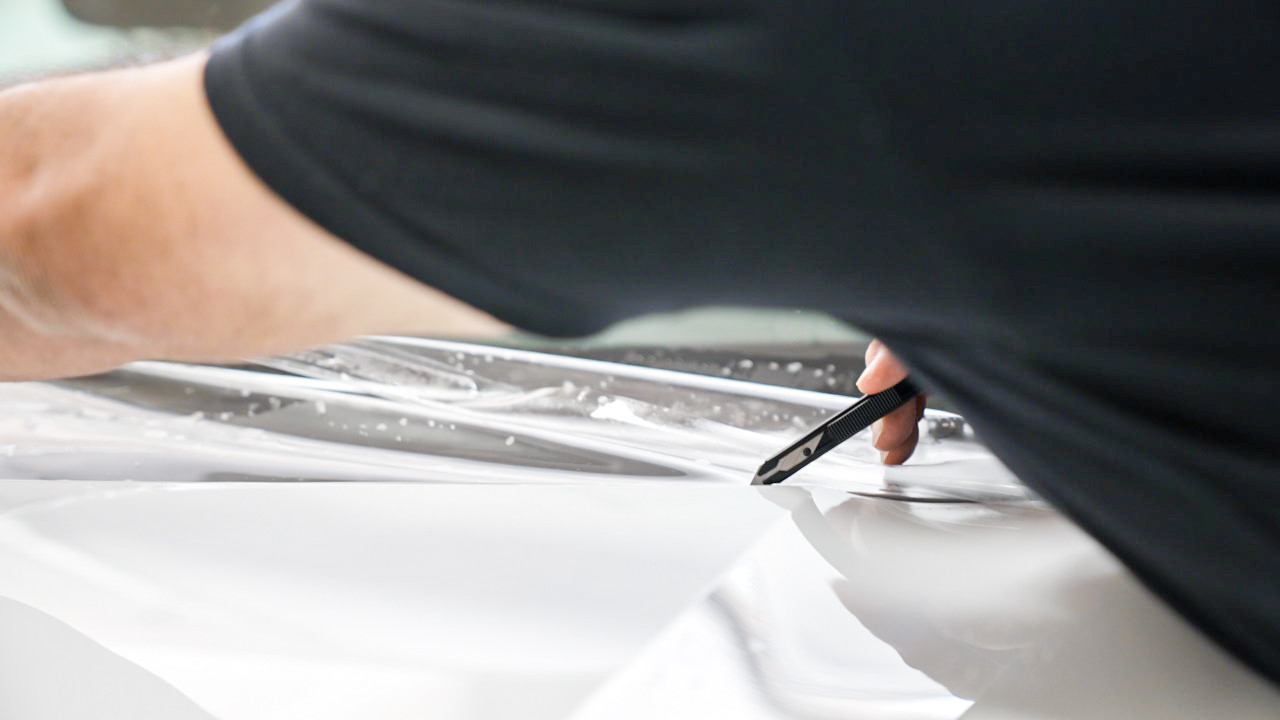 WHAT ELSE CAN YOU APPLY PPF ON?
These days, PPF is becoming a popular choice for homeowners wanting to protect their countertops (whether marble or granite), appliances, UTV glass, and plastics. We've also installed PPF on race car glass, as well as vehicle interior panels.
Are you a bicycle enthusiast? Just as we do with motorcycles, many bikers are choosing to protect their expensive and high-tech bicycles and mountain bikes with clear bra.
If you're curious about what else Garage Slick can do for you, contact us today and ask about custom coverage protection.
HOW CAN WE HELP?
At Garage Slick, our mission is to provide you with the best paint protection film services available. We do this by developing one on one relationships with each of our clients and exceeding their expectations during each visit. By working as a team and using the best products in the industry, we aim for perfection in every job.
FREQUENTLY ASKED QUESTIONS
What are the types of XPEL ULTIMATE PLUS Paint Protection Film
In addition to the standard gloss finish, XPEL ULTIMATE PLUS is also available in STEALTH (matte) and Black finishes, providing nearly unlimited styling options! Additionally, the newest XPEL ULTIMATE FUSION is also available for a higher level of protection.
For even more styling possibilities, ask about designer PPFs (colored, carbon fiber, glitter, etc.) to add even more flair to your vehicle!
How long does Paint Protection Film last?
The longevity of paint protection film varies on driving conditions, wear and tear, and method of care.
A high-quality film, like XPEL, is backed by a manufacturer's warranty of 10 years.
Have Questions?
Send Us a message about your needs